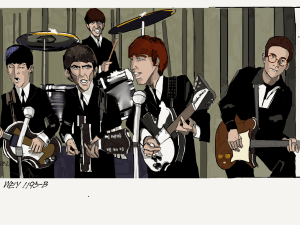 Said Allmusic about our guest:
"He writes songs that are melodic, hooky and emotionally true, and he sings and plays them with an honesty and force that still finds room for humor without venom." (See any commonality with The Beatles?) In this episode, Robert and Richard sat down and talked Beatles (and music generally) with Marshall Crenshaw, before discussing the meanings of "power pop" and "Beatlesque," citing some favorite artists along the way.  
Songs include "Crying, Waiting, Hoping" and "Soldier of Love."
Find Richard's books here.

Find Robert's books 

here

.